Can-C Ingredients
"N-acetylcarnosine (Can-C) Eye Drops – Approved by Innovative Vision Products" Two (5ml) vials per box
The key ingredient of Can-C eye drops is a specially formulated grade of N-acetylcarnosine that was developed by the researchers and used in the studies which evaluated their effectiveness over a six month period. It took quite a bit of trial and error experimentation, but the researchers finally found the specific grade that not only stopped cataracts from progressing,. but reversed them in 95% of the subjects.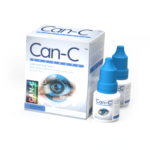 Can-C is a proprietary form of N-acetylcarnosine, a highly specific intraocular released form of carnosine which acts as both a stabilizer and carrier for safe delivery into the aqueous humor of the eye. Once delivered into the aqueous humor this bio-identical molecule becomes highly active in the reduction of free radicals, oxidative stress and lens glycosylation.
Manufactured in a GMP certified, pharmaceutical facility which meets ISO 9001:2000 and ISO 13485:2003 standards for the design/formulation and manufacture of sterile contact lens solution and pharmaceutical solutions.
Listing of Can-C Ingredients
Active ingredients: Glycerine (lubricant) 1%, Carboxymethylcellulose sodium (lubricant) 0.3%.
Inactive ingredients: Sterile Water (ophthalmic grade solution pH 6.7 to 6.9).
Antioxidants: N-Acetyl-Carnosine (NAC)* 1%.
Buffers: Borate, Potassium Bicarbonate.
Preservative: Purified Benzyl Alcohol.
Please read enclosed product insert for instructions on opening tubes.
For Product Questions and Orders Call Toll Free
877-526-4646
www.catcataracts.com