To Order Call 1-877-526-4646
About Dr. Mark Babizhayev, Ph.D.
1982 – Graduated: from the 2nd Moscow Medical Institute (Pirogov's), Medico-Biological Faculty as doctor-biophysicist.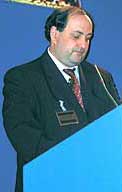 1988 – Ph.D. in Biophysics and Pathophysiology at the Moscow Helmholtz Research Institute of Eye Diseases, Moscow, Russian Federation.
1992 – – Dr. Mark Babizhayev receiving the prestigious Oka Memorial Award, Yokohama, Japan
1994 – Grantee International Science Foundation
Helmoltz Research Institute of Moscow
Dr. Babizhayev is a bio-physicist and holds a Ph.D. in Biophysics and Pathophysiology. He has dedicated many years to scientific research, principally at the Helmholtz Research Institute of Eye Disease, in Moscow. During that time, he has accumulated over 86 published articles and also has 15 patents to his name. He is also a principle involved in the development of a breakthrough for the treatment and prevention of senile cataract. Dr. Babizhayev presented for the first time to a western audience, the remarkable results of n-acetylcarnosine eye-drops to cure senile cataract within a 3-5 month period of time. Dr. Babizhayev's lecture was one of the keynotes of the 2002 AACL Anti Aging Conference of London held in Monte Carlo. https://www.antiageingconference.com/aacl2004/pastspeakers.htm#press
Dr. Babizhayev Current Position(s):
Executive Director of Innovative Vision Products, Inc., Delaware (USA).
Senior Research Investigator at Moscow Helmholtz Research Institute of Eye Diseases (RF).
Scientific Consultant to Exsymol SAM, Monte Cjharlo (MC).